Watching Milly Marks Watching Herself Getting Dicked-down
Watching Milly Marks Watching Herself Getting Dicked-down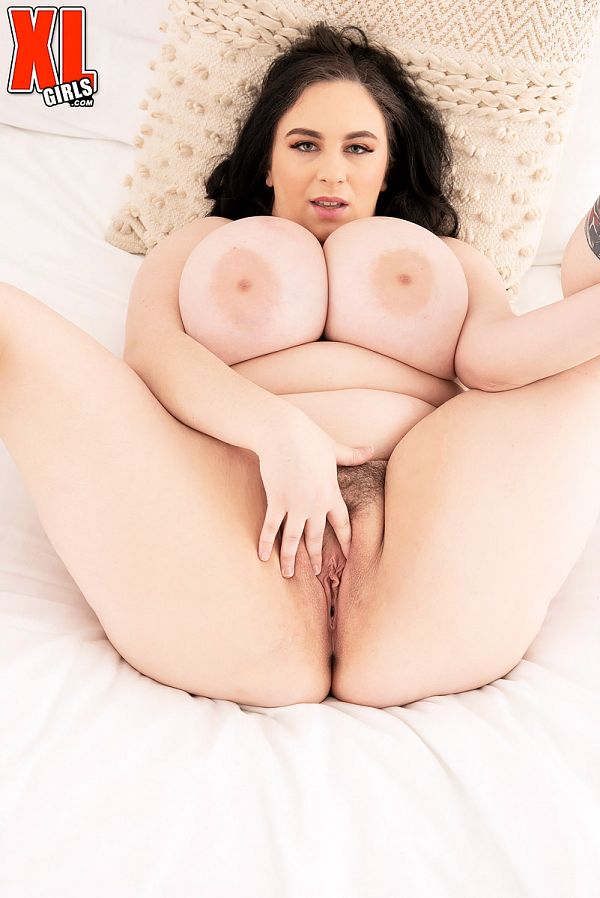 Milly Marks enters the bedroom, gets into bed and props her phone against a pillow after logging into XLGirls and one of her videos. The scene she chooses is a POV scene fucking JMac. It's called "Doing The Nasty."
Milly gets horny watching herself moan and ride JMac's cock in a reverse cowgirl as her huge breasts bounce. She fondles her tits, getting more and more turned on as she watches herself getting boned.
Pulling off her jeans and her top, Milly's hands get busy on her nipples and her furry sweet spot. She soon works three fingers into her pussy and tickles her clit, trying to synch her cumming with her on-video cumming to JMac's thrusts. In that video, she rubs her clit as they fuck in a missionary position.
When we first met Milly, she talked about watching people fuck.
"I like watching other people have sex. I've talked about it with Jose the photographer. I like watching my friends have sex in front of me. Sometimes I masturbate while I lay next to them."
But at the time, Milly didn't want to watch her videos at SCORELAND.
"I've gone on SCORELAND and watched other people's scenes, but I don't think I want to watch mine. I think it's very different. It's like when you hear yourself on a voicemail, when you hear a recording, you don't want to hear it because you think, 'Do I sound like that?' I'd be thinking, 'Do I look like that' I don't want to see it."
Then was then, this is now.