Daylene Rio: Sexin' The Bra-bustin' Booty Babe
Daylene Rio: Sexin' The Bra-bustin' Booty Babe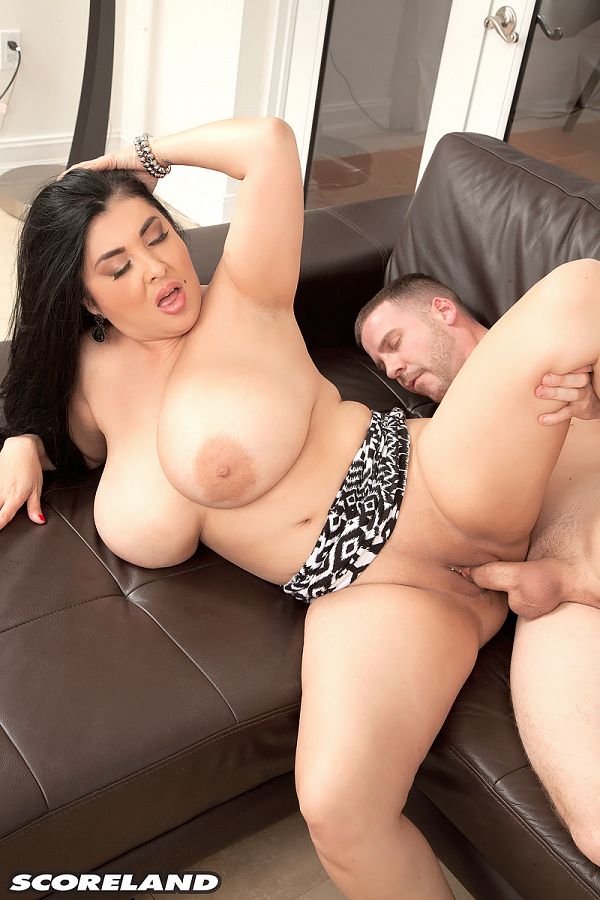 Eternally-popular SCORE Girl Daylene Rio tells us she likes to wake a guy up with a "good blow job, then sex" and she probably rubs her big 36HH tits all over him, too, while she's at it. Tony is not asleep at the moment, just patiently waiting for Daylene to get her ass over so they can have a big bang.
When Daylene shows up and sits down next to him, she makes a face.
"Ooops! My ass is so big I just ripped my skirt," the Los Angeles Latina moans.
There's only one thing they can do now. Fuck their brains out on the couch, and what pure pleasure it is to bang that busty beauty. Daylene has an amazing super-hourglass figure, the very definition of a stacked sex doll.
Daylene says her ass, not her boobs, is her best feature. "I like to get dolled up in see-through leggings or a very tight skirt, no panties and bra or see-through clothing." It might be a good idea to alert the California National Guard if she decides to go out dressed like that to Dodger Stadium or Universal CityWalk.
The question is sometimes asked if models watch their own scenes at home and whether they masturbate or fuck while they watch. We asked Daylene about that.
"Yes, I've had sex watching the videos that are girl, girl and boy," Daylene says. There are two at SCORELAND: "Daylene & Sara's Big Juggy Adventure" with Sara Jay and "SCORE Threesomes: Classic Double-Headers" with June Summers.