Brie Daniels' first time
Brie Daniels' first time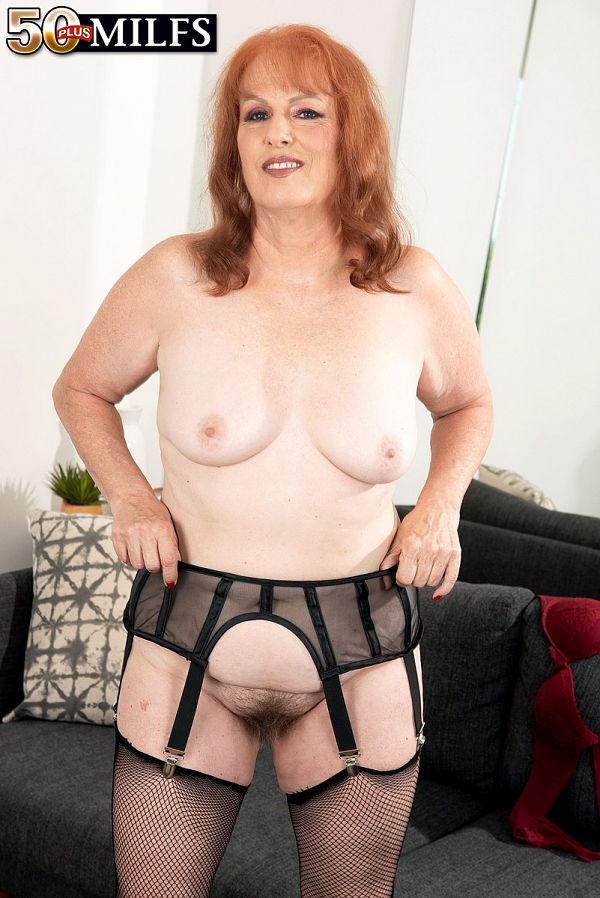 "When I was in my 20s, I worked as a stripper in a peep show in Van Nuys California," said Brie Daniels, a 58-year-old divorcee and mom. "All of the girls were behind glass. I loved doing private shows where I could look them in the eyes, talk dirty on the connecting phone and, while I was behind the glass, have them cum on my face time and time again."
There's a good chance that you'll be cumming on Brie's face as you check out her first nude photos. Brie, who was born in Washington and lives in Clearwater, Florida, is a spicy redhead with a bush. She strips out of her bra, panties, fishnet stockings and garter belt, spreads her legs, pulls on her pussy hair and spreads her cunt.
"I had fantasized about doing porn my whole life," Brie said. "But I did all of the family things and now, I get to do the me thing. And I had shooting porn on my list."
This is Brie's week at 50PlusMILFs.com. Today, solo photos and video. Thursday, she sucks and fucks on-camera for the first time.
Brie enjoys kayaking and snorkeling. She describes her perfect day as "dinner with an admirer who undresses me with his eyes, holds my hands and kisses me passionately, followed by an evening of dancing cut short by an intimate rendezvous at his place."
Brie describes herself as "the woman-next-door, the hot soccer mom. And later, when we've gotten to know each other better, I catch you by surprise with the intensity of my passion, my hunger to please."