Bangin' Birthday
Bangin' Birthday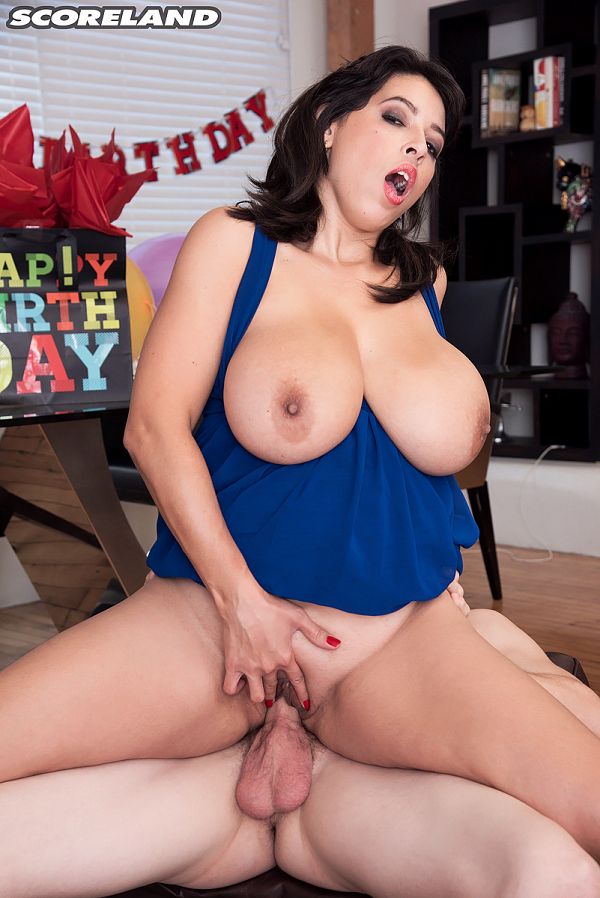 The birthday boy has a special gift coming his way after Elle Flynn carries his cake over to him. Elle's going to blow out his candles. What a great birthday gift. Nothing could be better.
Elle wraps her lips around his dick and sucks it hard. She wraps her heavy naturals around his dick, wet from her mouth. She opens her legs so he can wedge his dick into her tight hole and pound her hard, just the way she likes to be boned. "A taste of the rough stuff is good sometimes," Elle said. "I love licking cock, balls and taint clean. That keeps it rock hard all night."
"Every now and then, I'll date a guy who isn't necessarily into boobs. I always think it's kind of weird when guys don't like big boobs. But most guys are into my tits and I love that. I'm very happy with them and think I'm a lucky girl."
Just because a girl is curvy and voluptuous doesn't mean every guy she fucks has to be packing. "Cock size is not all that important. There are factors other than just length to consider. Don't forget girth and shape. The way the lady parts you desire was formed also makes a difference. For instance, because of my tilted uterus, what may be considered a small penis can be just right. For the same reason I often like a curved cock."
With a birthday present like Elle swallowing your junk, what else do you need?