Ass-Crammed Blonde
Ass-Crammed Blonde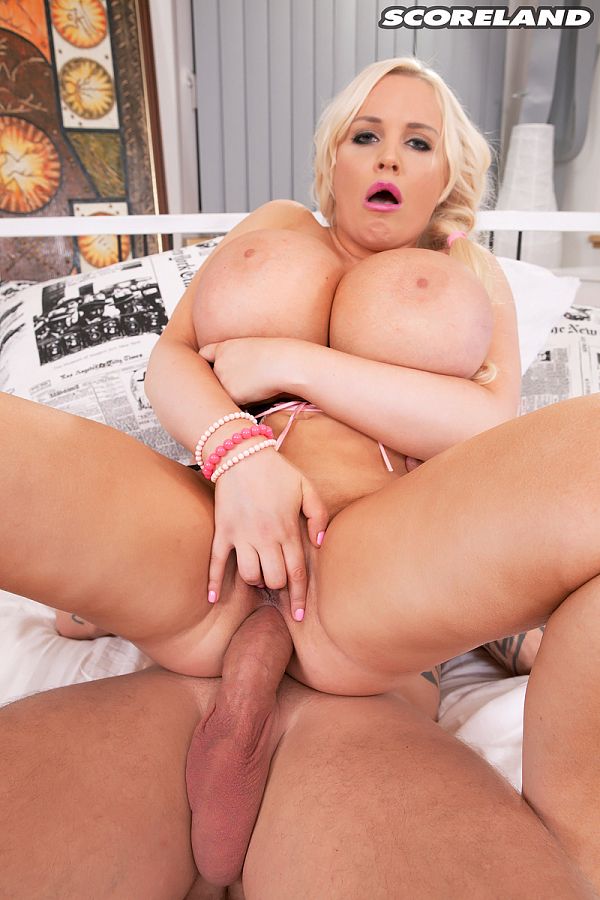 When Jordan Pryce first came to SCORELAND, she said, "You have never met a girl who loves cum as much as I do. I love when men look at my pictures and videos and tell me how they played with their cocks and shot their loads while looking at me. I love thinking about all that cum, and it's all because of me!"
Jordan followed that up with, "My problem is, many times when I am with a man, they don't even fuck my pussy. I am very good at giving blow jobs, even with big cocks, and sometimes they cum in my mouth or on my boobs before they have had a chance to fuck my pussy. Jordan the fuck doll!"
Leaving Jordan dry doesn't happen here. She does have to beg Max to come to bed and moans, "Fuck my huge boobs and my ass" in her throaty voice. She keeps up the pleas until he gives Jordan his cock and balls to lick, suck and choke on. When Jordan gives a guy a BJ, she loudly gags, chokes and makes popping noises in high-fidelity audio. A very dynamic sucker.
Jordan really wants her big hooters fucked too and begs for that again. Max gives the buxom blonde sexbomb what she wants because it's all about keeping 'em happy and satisfied.
Jordan is not done with her want-list. She wants her pussy taken care of and wants the butt-plug sticking in her ass replaced with his beef-salami. And once she's happy with the pussy and anal sex, she wants a lot of cum spurted on her. Max is her fuck-tool. Her spunk dispenser.